Nail filing and grinding is undoubtedly one of the most important parts of nail modeling. It always starts and ends with filing. No professional or amateur can do nails without a nail file. The file is a must for the correct nail shape. And it should be the basic equipment of every woman.
Nail designers could tell how much they did. Amount of stripped material, lots of energy and human effort. The hardest filing is in modeling with acrylic. It is the hardest material on the field of nail cosmetics. The nail modeling with UV gel is softer, but it has to be worked hard. Newer and newer products are coming to the market, which makes filing easier and simpler, but it won´t be possible without a file. So because of that it is an important part of nail modeling.
During frequent, all-day filing, the nail-pickers carefully selected the files that they saw well and last long. Really perfect nail shape can be achieved only with high-quality files. Today we have many types from which the owner chooses brittle, firm and gel nails.
Let's see what the current market offers for us. We have paper, glass, metal, blocks, polishers and special files. They have different shapes, size, roughness and usage.
PAPER FILES
Most popular and most used. Thanks to the large selection of shapes and coarseness, the first place belongs to paper files.
SHAPES - straight, rounded (banana), tapered, halfmoon, diamond - dual edge
ROUGHNESS - the smaller number is the coarser, the higher number is finer the roughness. Files are usually delivered in 80, 100, 150, 180, 240 and 320 coarseness
ROUGHNESS 80 - used for grinding or removing material of gel or acrylic nails, it belong among the thickest
ROUGHNESS 100 - is also used for grinding old gel or acrylic modeling. And also to cut down the length and shape the nail. Removes larger amounts of material.
ROUGHNESS 150 - is a medium coarse file, which is finer than the previous two. It is suitable for finer sanding and shortening of the nail length.
ROUGHNESS 180 - is one of the finer, so it is suitable for treatment of natural nails - to cut down them. It can be also used to roughen the surface of a natural nail, but here we need to be careful not to sand the nail.
ROUGHNESS 240 and 320 - the finest, used in natural nail treatment
Enii nails offers high quality nail files, made from high quality Japanese paper with a grain texture, applied in three layers. They are washable, so they can be disinfected and reused. They have a long lifetime, but of course it depends on what and how much they are used. Due to the very affordable price and quality they are the best selling goods. All files are double-sided and you can choose either uniform roughness eg 100/100 or double roughness eg 100/180. The most popular is our set of high quality files ZEBRA MIX - 100/100, 150/150 and 180/180.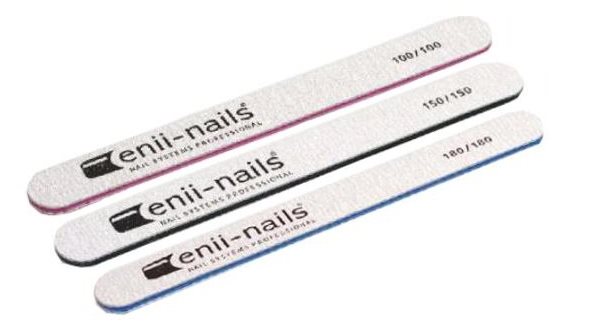 GLASS FILES
Cut glass nail files are suitable for natural or very fragile nails. They are not suitable for acrylic or gel materials, but you can fine-tune the nail shapes. Their great advantage is that they are almost eternal. They do not blunt, wear out, they are washable and can be disinfected. They are very gentle on natural nails and work efficiently and gently. The only drawback is fragility so they break easily.

METAL or SAPPHIRE FILES
Metal or also-called sapphire files were the only tool available at the time for nail polishing. Selection and quality are very important for metal nail files. You can also get very fine variants that can suit firm nails. The disadvantage is that they get blunt quite quickly.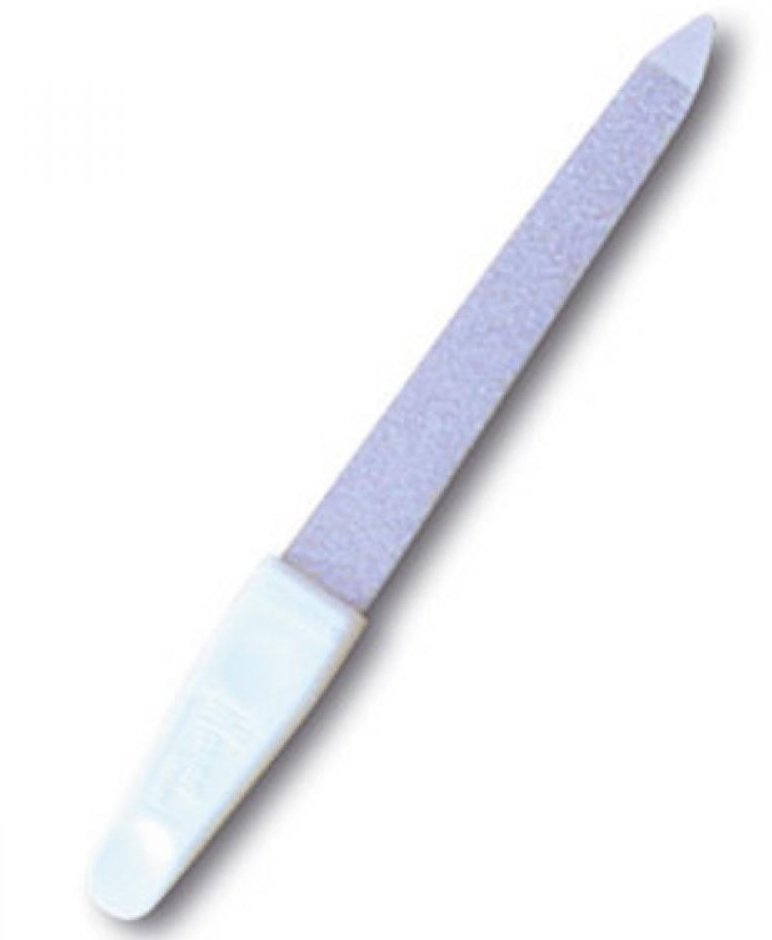 BLOCKS, POLISHERS AND SPECIAL FILES
Square foam blocks with different rough surfaces are also a variation on the nail file. They are not used to grind and shape the edge, but to improve the surface of the nail. Blocks are among the basic equipment of professional manicures. Thanks to them you can perfectly clean and eliminate all inequalities.
In the assortment of drugstores, but above all shops for professional manicurists we can find other special files. It may be a mineral nail file made of special stone. They are used to remove cuticles or fine-tune small defects. The nail file works as a medical tool: it is a very thin, metal tool that easily dries the sides and edges of the nails.
GRINDERS
The development of nail cosmetics, however, goes with the times and manual work is partially replaced by machines. In our case, they are great helpers. Professional fingernails have relieved themselves from physical exertion, hand, arm and neck pain. It will also reduce work time by at least half.
Grinders, as well as nail files, are on the market a large number, so we will tell you what to look for and what it serves.
The grinder is not a nail file, and it is already a much larger investment, so it is important to get a good understanding of the market opportunities.
The material and shape of the individual milling cutters are of utmost importance. The design significantly affects their quality and longevity. Each shape is then responsible for a different task so that the care provided is truly comprehensive.
Nowadays, the range of materials from which the milling cutters are made has substantially expanded. Nowadays you can meet six basic materials. The most important thing is whether you maintain gel, acrylic or natural nails:
Diamond and sapphire
Titanium
Carbide
Paper
Silicone
Ceramics
Diamond and sapphire
The hardest and most effective material. It is used for treatment of natural nails or UV gel. Diamond is also perfect for nail cuticle and nail bed. The softer sapphire then finds use in pedicures.
Titanium
Titanium is undoubtedly one of the strongest metals at all, and the same is to be expected of extensions made of this material. They are characterized by lower price and are usually suitable for minor nail treatments, eventually for UV gel and acrylic.
Carbide
The beauty salon owners certainly cannot do without carbide cutters. They are by far the most durable and very hard, thanks to which you do not have to worry about their sterilization by heat. The usability of these milling cutters is unlimited, as well as the service life when properly handled. Moreover, the cardinality of the material limits any possible vibrations.
Paper
Paper sanding discs are best suited for sanding old varnish or acrylic. This is a one-off and inexpensive matter. Usually you can use three basic coarseness - fine, medium and coarse.
Silicone
Silicone polishing cutters are also available in three coarsenesses. These are intended especially for removing the cuticles around the nails, eventually corners. In addition, when used correctly, they ensure perfect shine.
Ceramics
The biocompatibility of ceramics makes ceramic milling machines suitable for people with a strong allergy to metal. They are made of high quality materials, which ensures their long life and water resistance. Ceramic milling machines do not cause vibrations and unpleasant feelings of heat when running. Very easy to clean and resistant to disinfectants.
SHAPE
Like the material, the shape of the individual cutters is important. Basically, there are 3 basic ones, each of which is applicable to a different type of activity.
Elongated - nail cuticle remover
Conical tip - for removing old UV gel and acrylic, for undercutting of the nail
Cylindrical attachment - for quick removal of UV gel and acrylic, suitable for sensitive individuals
ROUGHNESS
Equally important is the roughness of the cutters. As with files. Coarse extensions are suitable for removing old gel or acrylic layers, while medium coarse products for more detailed treatments. The finest instruments will then be used to remove the nail cuticle and treat the most sensitive areas.
POWER SUPPLY
Another decisive factor in choosing a grinder is the power supply. Battery grinders are not nearly as powerful as electric grinders. For such a home abrasion is enough battery grinder, but professionals must definitely choose electric.
PRICE
And the last decisive factor is certainly the price. There is a huge range of grinding machines on the market from 8€ to 800€. As the price increases, the quality of the device also increases. When choosing, we should focus on what we are looking for. We will certainly have lower demands on home use than professional ones. In the middle price range of grinders, the handle is sufficiently insulated and completely absorbs vibrations, we can buy a foot pedal, we can use a large range of cutters and the speed is around 20,000 / min.
When purchasing, we should inquire about the availability and price of spare parts.
GRINDER
They are used for grinding gel, acrylic and natural nails. They are used in manicures and pedicures. They are suitable for home and professional use. As we said before, grinders have different shapes and roughness.
The roughness is distinguished by a color stripe.
black stripe - super coarse
green stripe - coarse
blue stripe - medium coarse
purple stripe - slightly coarse
red stripe - fine
yellow stripe - super fine
According to the shape of the grinders we distinguish its use. The conical or cylindrical shape serves to grind the gel or acrylic layer material. The elongated or grinders in the shape of a droplet or a ball is used to grind the nail cuticle. The pointed shape serves to remove the natural nail from the bottom.
Carbide grinder, medium coarse, conical - for removing acrylic, gel or polygel material alone

Carbide grinder, fine, conical shape - for cleaning of removed material

Carbide grinder, super fine, elongated shape - for fine grinding of the entire nail surface
Carbide cutter in the shape of a drop or ball - used to remove the cuticle around the nail

Carbide cutter to remove natural nail from the bottom of the nail

Carbide grinder for polishing natural nails

Grinding Roller Carrier + Grinding Rollers (single use, different roughness)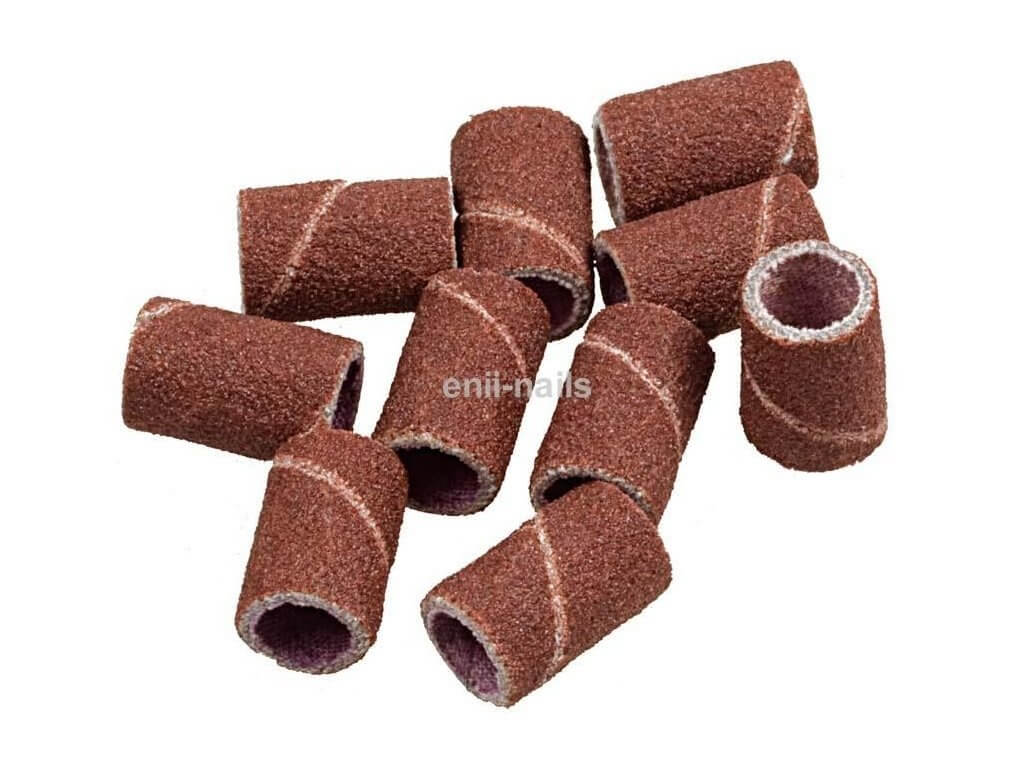 Cylindrical carbide milling cutters - cylindrical shape is used for faster material removal, it is suitable for sensitive individuals.
Ceramic Grinder, Conical, Medium Coarse - Versatile, suitable for various gel or acrylic removal procedures. Thanks to its unique ceramic shape it enables fine and precise grinding without much effort.

Our ENII offers several types of grinding machines where quality meets reasonable prices.
The grinding machine is definitely a great helper, it will reduce the work time and you can satisfy more customers.