ENII nails another Christmas news. BUILDER UV / LED GEL gel in a bottle.
It is a unique building gel of a new generation with a minimum content of HEMA (1-5%). It is made especially for use from a bottle. Its easy application will definitely entertain you. Thanks to the rubbery, soft consistency similar to that of our Rubber System, working with it is really very simple and creative. Application is possible on natural nails, stencils, but also tips. Working with it is fast and with a little skill you don't even need to hone so much. You can easily make long, yet thin nails with a natural look. And also with a natural and light feeling for their wearer.
Compared to Rubber, it is hard after curing. It is a hard solid material with great durability for more than 4 weeks.
The functional system is: support products (Nail Prep + Super Stick) + base - you create a Builder gel with a thin layer cured in a lamp for 30 sec. + BUILDER GEL, as a construction part of modeling + TOP (Builder gel does not shine on its own, it is necessary to apply a top top)
It cures in a UV / LED lamp, we recommend 48W and higher for 30-90 sec.
The package is in 11 ml bottles with its own soft brush for easy application.
We offer 4 different color collections, which we will expand in the future. These are the GLASS, MILKY, COVER and GLITTER collections. We are also preparing to expand the collection with INTENSE.
GLASS
The GLASS collection is a collection of building gels with a glass effect. We offer CLEAR and GLITTER We plan to expand colors such as black, red, pink and more. For creative creation as made. There is definitely something to look forward to.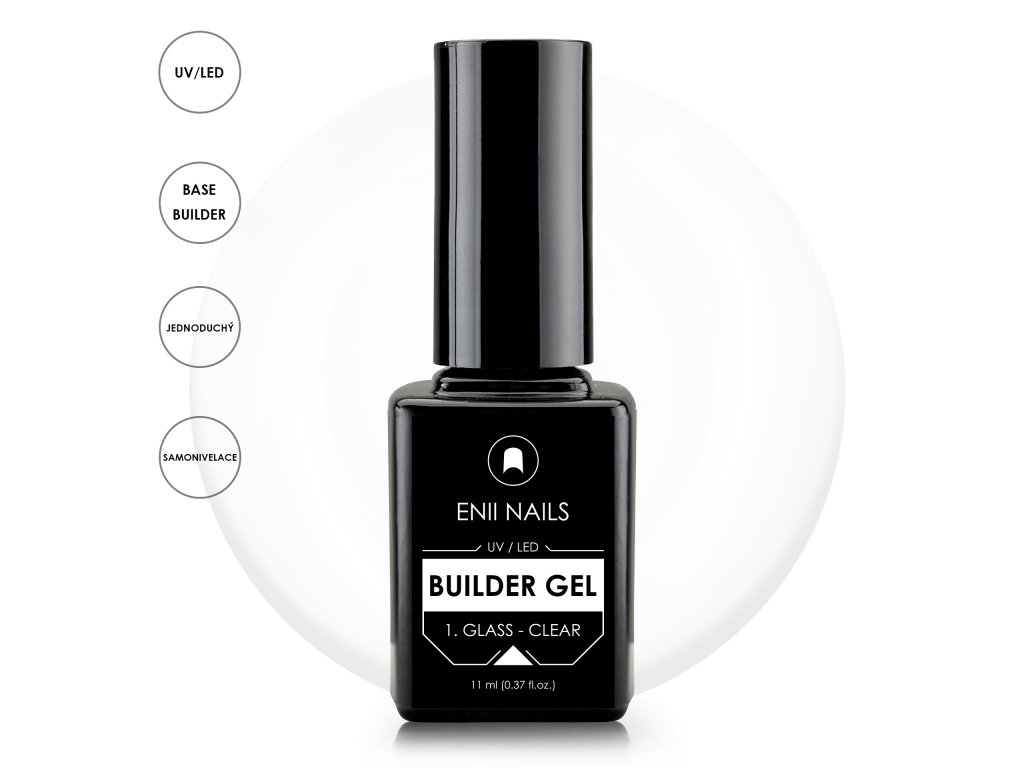 MILKY
The MILKY collection is a collection of construction gels with a milky effect. It is a gel for the natural appearance of the nail in soft tones of milky color. It is suitable for baby boomers and softening shades. we offer MILKY - PINK with a very subtle touch of pink and MILKY WHITE.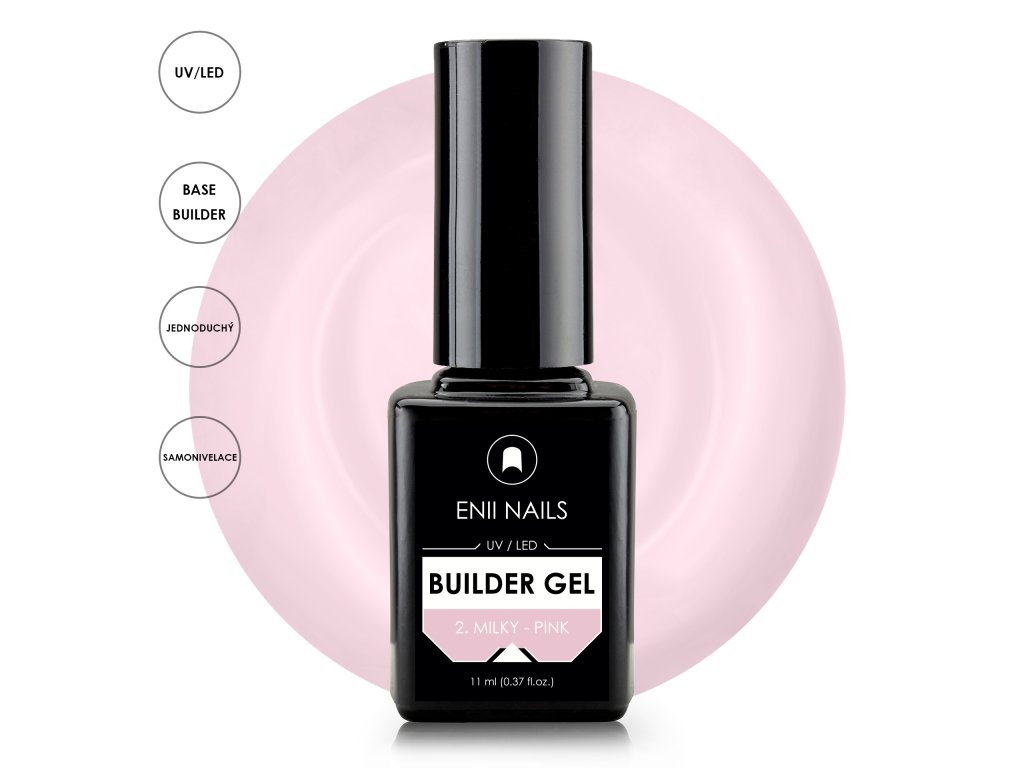 COVER
The COVER collection is a collection of building gels with a natural effect. It is a gel, with color toning in natural colors. It is used to cover imperfections or to extend the nail bed. It has the natural look of a nail bed. We are launching this collection with the color Beige, which you will definitely fall in love with.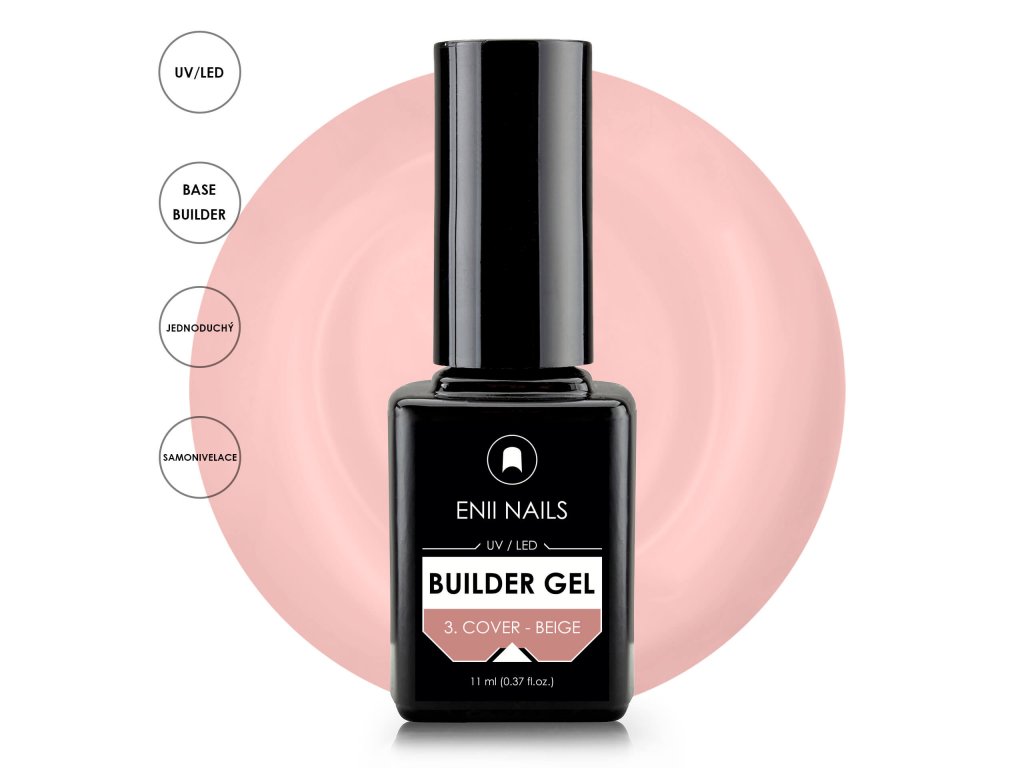 GLITTER
The GLITTER collection is a collection of construction gels with a glitter effect. The gel is camouflage and contains micro particles of glitters, which give a beautiful, delicate look.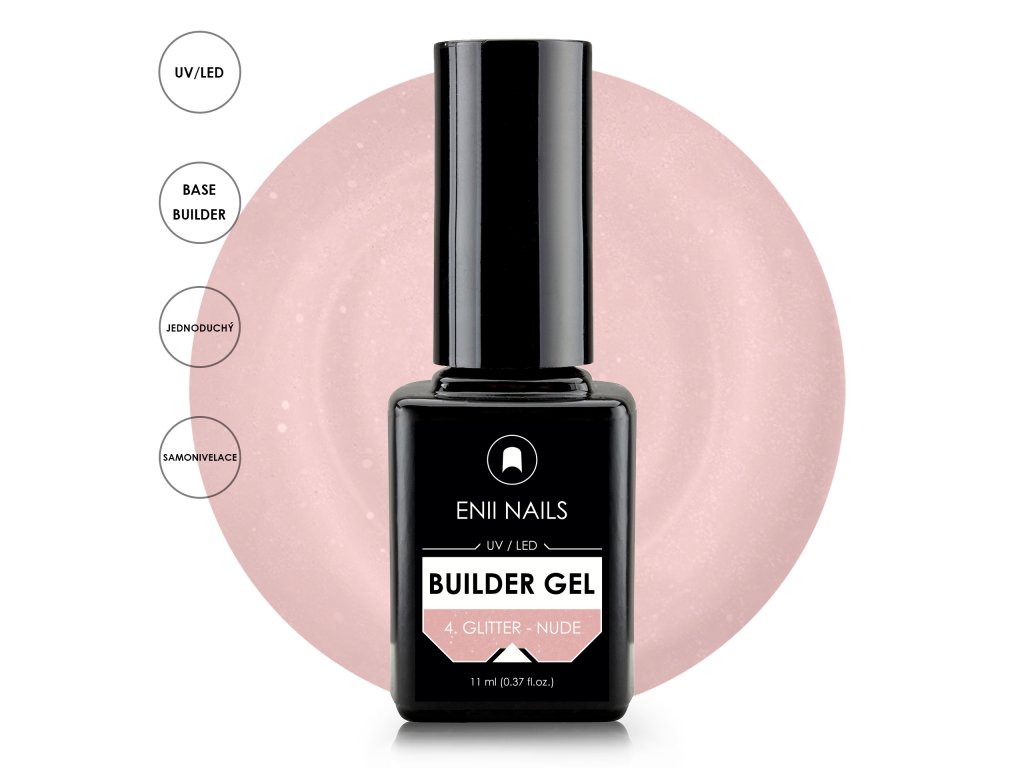 APPLICATION PROCEDURE:
We disinfect the nails and hands (hybrid sanitiser) - before each nail treatment, we spray and disinfect the hands and nails with a disinfectant.
we will perform a classic nail treatment (cuticle adjustment, roughening of the nail plate) - we use a pusher or if the cuticle pusher and we try to remove as much cuticle as possible from the nail bed, we cut off the excess cuticle with scissors. We can also use a grinder and attachments designed for this purpose. Roughen the nail plate with a very fine file or preferably with a buffer (foam file to obscure the nail - it is more gentle than the file)
Builder gel can be applied to natural nails, stencils and tips - according to your choice, we will prepare your nail - the gel is suitable for natural nails used for strengthening. If we have short nails and long for long ones, this material is an ideal choice. Depending on how used or skill you are, in any case, nail extensions can be used for tips and templates.
We clean and degrease the nail with a Cleaner (Hybrid Cleaner), we thoroughly clean the entire nail plate, including the nail walls (these are the hips along the nail). Important! (For example, ruffling hair is also wrong.)
to ensure good adhesion, we use NAIL PREP (dehydrator) and SUPER STICK (adhesive) - Nail prep serves as a dehydrator and a perfect degreaser, so we apply nail prep to the worn nail cleaner, then the adhesive. We recommend the Super stick, which contains a very small amount of acid and adheres perfectly. Just to give you an idea - it serves as a double-sided adhesive tape. Let it air in a short time, create a sticky surface and continue.
we apply a thin layer of Builder gel as a base - on a prepared, cleaned nail we apply a thin layer of Builder gel as a base with a brush, we cure for 30 seconds in a UV / LED lamp 48W and higher
on a hardened base, apply a "ball" of gel with a brush and lightly spread over the entire nail. We concentrate the larger layer in the middle along the entire length. Lightly spread on the sides. We can use a detailer brush to replenish the gel around the nail. Working with it is easy, thanks to its soft consistency. Before we let the nail harden in the lamp, we turn it by 180 ° for a short while and thanks to the self-leveling, the gel creates a perfect shape that you no longer have to file.
cure in UV / LED lamp (48W and more) for 60-90 seconds, in UV lamp for 2-4 minutes
after curing we can apply color gel, gel lacquer, lux gel lac, or leave in a natural look and only apply TOP. If you are handy enough that you do not need a file, at this stage, we can apply paint or any other decoration on the effusion. Finally, we apply TOP. We recommend the top, because the Builder gel is gloss-free after wiping the effusion and also has protective effects, for example, against scratches. Of course, we can also use matt for the matte effect that is now squirting. A combination of both is not excluded. If it is still necessary to saw, wipe off the effusion and adjust the nail as needed. Remember that the entire nail needs to be confused before applying Top.
If we do not use a sputum-free TOP, we will finally wipe out the sputum.
We have done! At the very end, treat the cuticle with oil, massage in. If we want to be absolutely perfect, we use a caring hand cream and perform a light massage.
REMOVAL:
We perform removal by sawing.
We believe that you will love Builder gel and that it will become an integral part of your home and professional manicure.