The base of the oil consists of olive oil, which is suitable for dry, inflammatory, allergic, irritated or otherwise damaged skin. Thanks to the addition of other oils, such as avocado oil or wheat germ oil, the product has significant regenerative and revitalizing properties. To soothe irritated skin, the composition is enriched with lemon balm essential oil, which not only has positive effects on the skin, but also gives the oil a pleasant scent. We recommend the product especially to owners suffering from frequent bumps and small ranks around the nail bed.
It is suitable for both men and women.
Use:
Apply the oil on the nail and its surroundings, after a slight massaging it is very well absorbed. Use regularly to improve and regenerate nails and the nail environment.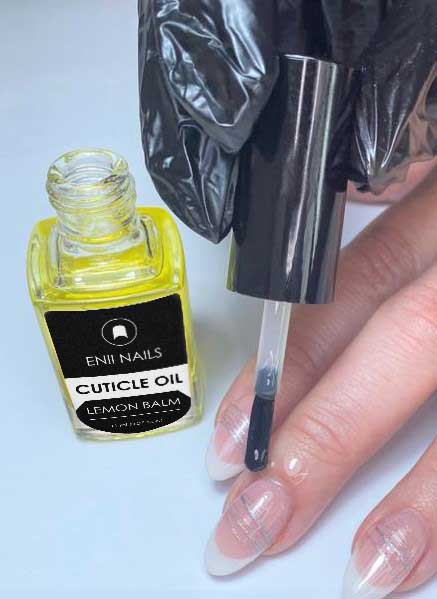 We offer packaging in a bottle with an 11 ml brush with a pleasant lemon balm scent. HERE
Olive oil - Olive oil is one of the five most healthy ingredients in the world. It has a number of beneficial and healing effects on the human body. From effective prevention against cancer, through the support of sugar and fat metabolism, to the treatment of cracked skin and scars. Olive oil with its antioxidants has exceptional anti-inflammatory effects for the body. The oil contains a high proportion of unsaturated fatty acids, minerals, natural antioxidants and trace elements. It also has significant softening and hydrating effects due to the promotion of collagen production in tissues. Cosmetics with olive oil are very suitable for dry and irritated skin with a tendency to inflammation and allergies.
Avocado oil - Avocado oil is similar in composition to olive oil. It is rich in unsaturated fatty acids. It is suitable for all skin types and is anti-allergic.
Wheat germ oil - The oil has antioxidant effects and contains a number of beneficial substances, such as phytosterol, vitamins A, B, B3, D and E, lecithin, or the minerals iron, potassium, phosphorus and zinc. It is especially rich in octanosol - a saturated primary fatty alcohol with 28 carbon atoms in the molecule, which is part of various vegetable waxes.
Lemon balm essential oil - 100% essential oil Lemon balm is considered one of the strongest essential oils in all aromatherapy, with an amazingly pleasant, sweet, herbal aroma. Lemon balm lowers blood pressure, slows breathing (insomnia), relieves tension and nervousness, promotes sweating and digestion. It is suitable for refreshing and cleansing oily and acne skin. It also has antibacterial, anti-inflammatory, anticonvulsant and tonic effects. It is suitable for mixtures soothing the skin. And into lip balms that alleviate cold sores.